A recent study suggests that spicy food can lessen your appetite and boosts your metabolism and therefore burn fat quickly. Reason being, these hot spices constrict overeating as they make you feel full post eating. Also, these species have a thermogenic effect which heats up the body from within and stimulates the metabolism. So here are some of the top spices which can help you in losing healthy weight.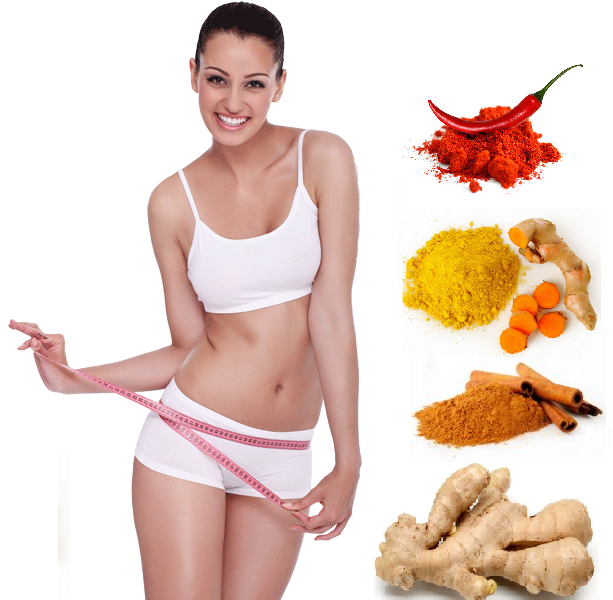 Ginger: – Ginger has the ability to increase your body temperature and improves metabolism that helps to burn more fat. It also helps to improve digestion and regulates your body internal movement. If you are prone to car sickness ginger might help in inhibiting nausea. To enjoy its rich flavor you can add it to tea or healthy smoothies.
Turmeric: – Turmeric triggers the metabolism for short period of time after you ingest it, further helping in weight loss. Turmeric has an ingredient called curcumin which is the main reason for promoting weight loss and specifically helps in reducing belly fat. It also prevents re- the growth of fat after weight loss by hindering the growth of fat tissues by forming new blood cells.
Cinnamon: – If you use 1 tablespoon of cinnamon a day it can increase your metabolism and improves the body's ability to manage sugar level by increasing insulin activity. It also one of the ingredients which aid the digestions process. Apart from this it also boosts energy level and concentration.
Cayenne Pepper: – Cayenne Pepper is known as the prince of all the peppers. It has anti-inflammatory, anti- allergen, anti- fungal and anti-irritant properties. According to the scientist, if you eat cayenne pepper you will have a less appetite which means a less calorie intake in a single day. It also a boost metabolism rate and fat burning ability shoot up to 25%.